LED Phototherapy For Baby Jaundice
Benefits
The device is compact, and durable enough to function in the mother's room at home and promoting breastfeeding.
LED Phototherapy save , no side effect and allows the family to treat their babies in the comfort of their own home.
Reduce exposure to infection, and return mother and baby to the safer home environment to breastfeed.
Intensive two-sided LED lighting most effective phototherapy .
For detail package please call or whatsapp :
012-3404007 or 0163404626
WhatsApp Direct :
option 1:
Phototherapy Machine
RM380/3D2N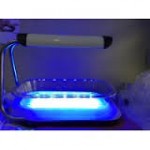 Option 2
Phototherapy Machine with Jaundice Meter
RM 480 for 3D2N